ClinicalAthlete Powerlifting Coach Certification - Kingston, ON
July 25 - 26, 2020
CrossFit Queen Street
226 Queen Street, Kingston, ON K7K 3S2
COURSE DESCRIPTION: 
This two-day, intensive course will leave you with new tools to optimize movement, positioning, and performance for the back squat, bench press, & deadlift; as well as safely manage common powerlifting injuries. This course is appropriate for any coach, trainer, clinician, or student looking to improve powerlifting performance and reduce risk of injury; and the ClinicalAthlete name ensures the material will be based on the best available scientific evidence. Upon course completion, you will earn the distinction of a Certified ClinicalAthlete Powerlifting Coach (CCPC). What does this mean? It means that athletes will recognize you as having the ability to safely and effectively coach the weightlifting movements for optimal positioning and performance, as well as knowing how to modify training appropriately, if injury is present. This course will help you bridge the gap between weightlifting performance and weightlifter health.
Those who successfully complete the course and pass the post-course assessment will have the opportunity to be listed on the ClinicalAthlete Directory as a Certified ClinicalAthlete Powerlifting Coach, as well as be a part of the ClinicalAthlete Forum!


COURSE SCHEDULE:

DAY 1 - MORNING MODULES:
Course Introduction - Lecture
Powerlifting History - Lecture
Kinematics of the Lifts - Lecture
Rules of Execution & Phases of the Lifts - Lecture & Demonstration
Pain & Language - Lecture
Motor Learning - Lecture
Powerlifting Posture - Lecture
Positional Drills - Lab
DAY 1 - AFTERNOON MODULES:
Movement Assessment for Powerlifters - Lecture
Squat Assessment - Lab
Bench Assessment - Lab
Deadlift Assessment - Lab
Programming concepts & Injury Risk Reduction - Lecture
Case Study - Lecture
DAY 2 - MORNING MODULES:
Tiered approach to athlete management & programming - Lecture
Building the Phases of the Squat - Lecture & Lab
Building the Phases of the Bench - Lecture & Lab
DAY 2 - AFTERNOON MODULES:
Building the Phases of Sumo & Conventional Deadlift - Lecture & Lab
Programming Considerations for Powerlifting - Lecture
Closing Remarks & Q&A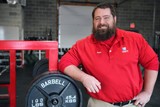 CONTINUING EDUCATION CREDIT:
Athletic Trainers: Approved for 13 Category A credits. BOC approval #CE20635
Physical Therapists: Approved by either the FSBPT ProCert program, or by the state board for 13 contact hours. 
For ALL other professions, certifications, or boards outside of this state, please check with your governing body for retroactive approval. This includes NSCA, ACSM, NASM, Chiropractic Boards, etc.